The Waco Habitat for Humanity ReStore is a building materials recycling center that provides a sustainable source of income to Waco Habitat for Humanity. The store accepts material donations from a variety of sources and uses new materials whenever possible in the construction of Habitat homes. The balance is sold to the public at greatly reduced prices. The ReStore's impact can be seen in three ways: the impact on the community, the impact on Waco Habitat for Humanity, and the impact on the environment.
Support affordable homeownership and community revitalization in Waco.
Receive a tax deduction, to the extent allowed by law.
Costs associated with delivery may be tax deductible.
Eliminate costly surplus sales, storage, and re-stocking fees.
Eliminate cost of disposal of merchandise.
Prevent adding usable items to landfills.
Receive public recognition for donation, depending on market value.
Provide your new or gently used items with a second life.
What does the ReStore do for the community? 
Offers the public a diverse selection of building materials at greatly reduced prices.
Serves as a community recycling center, preventing unnecessary dumping into landfills.
Facilitates neighborhood revitalization by offering affordably priced materials.
Provides meaningful community service and volunteer opportunities
Partners with the City of Waco to help further its environmental initiatives.
What does the ReStore do for the environment?
Works with City of Waco Solid Waste Services to facilitate their household hazardous waste disposal events.
Diverts tens of thousands of pounds of resellable donations otherwise bound for Waco's waste facilities.
Decreases its impact on the environment by generating part of its own electricity, using solar panels made available by a grant from the Green Mountain Energy Sun Club. To see a live graph of our electricity usage and how much energy our panel is creating, click here.
Why should you shop at ReStore?
The prices are great and you never know what you will find. But more than that, all proceeds from ReStore sales support Waco Habitat for Humanity's mission to build decent and affordable homes for low-income members of our community.
When you shop ReStore, you help Habitat build.
The Habitat ReStore shopping experience
Shopping at a Habitat ReStore isn't like the shopping experience anywhere else. Part home improvement store, part home goods store, part resale store, the ReStore has a wide selection that changes often. You benefit because you get fantastic new and gently used home improvement items below retail prices. Folks in our community and around the world benefit because your purchase supports Habitat for Humanity.
Who shops here?
Whether you are a do-it-yourselfer, homeowner, renter, landlord, contractor, interior designer, environmentalist, or treasure hunter, make Habitat for Humanity ReStore your first stop when shopping for your next home improvement, renovation or DIY project.
Why donate to the ReStore?
All donations given to ReStore are sold to raise money to give back to our community where we've built over 176 homes for families in need. Help us build homes, communities and hope right here in Waco-McLennan County.
What can you donate to the ReStore?
Habitat ReStores accepts small and large donations of new or gently used appliances, housewares, building materials and more from individuals and companies. Items we cannot accept include but are not limited to any items that are damaged, broken, rusted, torn, or stained, as well as mattresses or box springs, toys, clothing, electronics, or hazardous materials. If you're not sure give us a call at (254) 756-0131
Are donations tax deductible?
You also get a tax deduction for your donation. Habitat for Humanity is a 501 (c)(3) non-profit, so every donation you make to ReStore is tax deductible.
Need to donate stuff?
The easiest way to donate is to drop off your donation at our ReStore. We'll help you unload and provide a tax-deductible receipt in the store. We accept dropped off items during our normal business hours. If you'd like to schedule a donation pick up (for large items or large number of donated items), please contact us by calling our donation coordinator Ignacio Frias.
Your local Habitat for Humanity ReStore is a place to put your talents to work.
From customer service to furniture repair, Habitat ReStore offers a multitude of volunteer opportunities geared toward individual interests and skills. By giving your time, you help your Habitat ReStore do more to support building projects that benefit families in your community and around the world.
Volunteer opportunities at Habitat ReStore
There are many ways to volunteer at Habitat ReStore. The following are common ways you can help the ReStore:
Creating decorative displays
DIY projects
Customer service
Stocking store shelves
Unloading trucks
Furniture repair and refurbishing
Helping with donation pickups
Pricing inventory
Organizing the ReStore and the warehouse
Cashier
Sales floor associate
Merchandiser
What is the Habitat ReStore volunteer experience?
In addition to helping Habitat ReStore provide decent places to live for families in your community, you also can expect a great time while volunteering at Habitat ReStore! You'll get to interact with ReStore staff as well as your fellow volunteers, which may include future Habitat homeowners that often serve as volunteers in ReStores as part of the sweat equity investment for their home.
How do I sign up to volunteer?
Registering to volunteer is easy! Just click here and select the available shifts you would like to volunteer.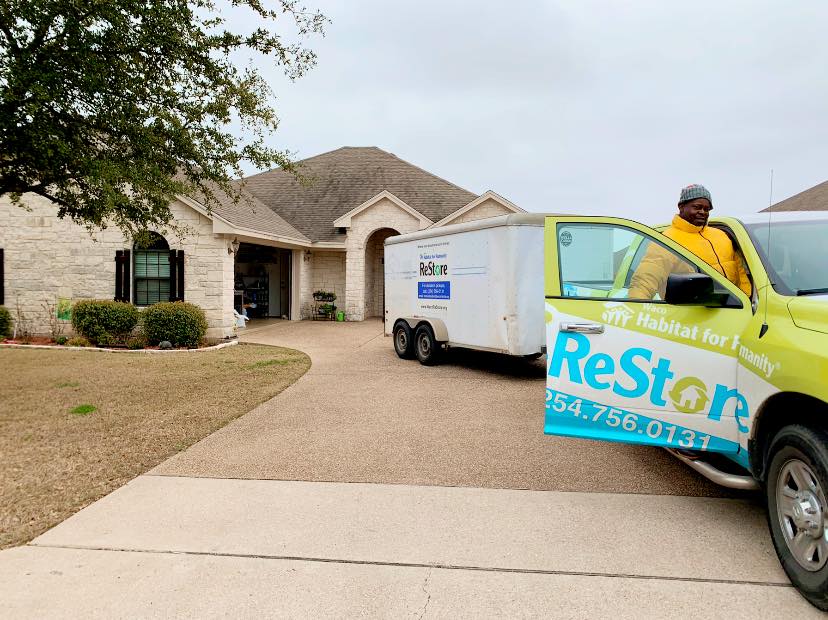 Wednesday - Friday
9:00 AM - 5:00 PM
Saturday
9:00 AM - 3:00 PM